Launch of eKYC Based Online Learners License by Hon'ble Chief Minister of Punjab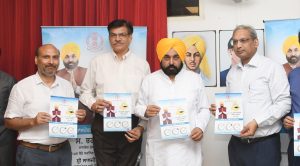 Hon'ble Chief Minister Punjab Shri Bhagwant Mann launched the online driving license facility in Chandigarh on Tuesday dated 14/06/2022. It will facilitate people in the state of Punjab to get their learner's driving license in a smooth and hassle-free manner without even going to the Regional Transport Authority office.
During the launch, the Chief Minister termed this as a revolutionary decision which will save the time, money and energy of the people desirous of getting learner's driving license from the comfort of their homes round the clock, and added that this "path breaking" initiative has been taken to facilitate masses and check corruption in the state. With the launch of this facility, people will now be able to get learner's driving license just at a single click of their mouse, adding that they can apply for licenses at 'Suvidha' centre too.
This portal will help people save their precious time by ditching long queues, he said. The Chief Minister further said that the state government is committed for well-being of the people by providing them best citizen centric services adding that more such facilities will be launched in coming days. He also said that in 2021-22, 5.21 lakh applicants were issued driving license. He also appreciated the efforts put in by the NIC Punjab Team.
Also present on the occasion were Sh. A Venu Prasad, IAS ACS to CM Punjab, Sh Ravi Bhagat, IAS Special Principal Secretary to CM, Sh. Kumar Amit, IAS Special Principal Secretary to CM, Sh Vikas Garg, IAS Secretary Transport, Sh Vimal Kumar Setia, IAS State Transport Commissioner and other senior officers from Govt. of Punjab. From NIC Punjab, Sh. Vivek Verma, DDG and SIO alongwith Sh. Anoop Kumar Jalali, Scientist-F & HOD and Sh Tarminder Singh, Scientist E, State Coordinator eTransport attended the launch.
The Aadhaar based Learner License process will be completely online, where no verification / scrutiny and approval will be required (Only Deemed Approval).