Inauguration of eCustody Certificate and Prisons Academy Module Under ePrisons Project in Punjab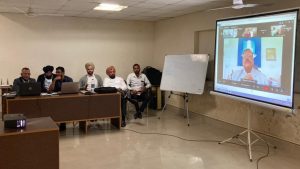 The ePrisons project is running successfully in all the 27 Jails (Central, District and Sub Jails) of the Punjab state for more than 7 years. Recently, NIC-HQ Team added two more modules to this ePrisons suite namely eCustody module and Prison Academy module. Both of these modules were made live by Sh. P.K. Sinha, IPS, ADGP(Prisons), Punjab on 17-11-2021 at Central Jail Patiala. A live demonstration of both the modules was given by Sh. Shashi Kant Sharma, Senior Technical Director & HOD, ICJS and ePrison Project, along with Sh. Kartik Krishnan, Senior Systems Analyst. The project coordinator from NIC Punjab Sh. Vikramjit Singh, Technical Director was also present.
The authorised officials from the Advocate General Office, Punjab, can login the ePrison portal and raise request for custody certificate to the Jail concerned. The concerned Jails will generate the draft custody certificate. The information is to be verified by the Warrant Officers with both physical as well as electronic record of the prisoners. Subsequently, this document is eSigned by the Superintendent of the concerned Jail. This eSigned document will be made available for download to Advocate General office, Punjab for further submission to concerned bench of the Hon'ble Punjab & Haryana High Court.
The module has facility for searching any prisoner in the country across for making the certificate and is developed with the objectives of speedy generation of eCustody certificate and delivery of justice in time besides reduction of cost incurred and fastening eCustody certificate delivery time which used to happen manually by sending the staff to deliver it physically. Timely delivery of eCustody certificate will avoid unnecessary adjournments besides making available authentic data to the court.