Integrated Human Resource Management System Adoption by Punjabi University, Patiala Punjab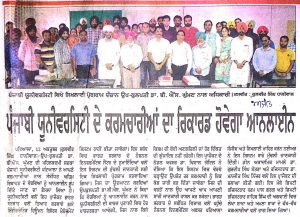 On request from Punjabi University, Patiala, Punjab, NIC Punjab held a demonstration cum training program for the staff of University. This session was conducted in the presence Professor & Vice Chancellor Sh B S Ghuman, Dean Academic Affairs Sh G S Batra and along with Registrar Sh M S Nijjar. Staff of the administration and teaching department took part in the workshop under the leadership of Deputy Registrar Sh D P Garg. Though mainly eService book & eSalary system were demonstrated and various queries from the participants were taken on these modules but other modules of GPF, GIS, leave etc. too were demonstrated followed by discussion.The system demonstrated was found to be very suitable for implementation in the University and Vice Chancellor Sh B S Ghuman said that the data available online would enhance overall efficiency and bring transparency in the working and will help in taking various welfare measures for employees. The University has planned for data entry soon starting from Service Book Module followed by eSalary module followed by implementation of other modules one by one in phases.
All senior functionaries of the University lauded the system developed and expressed their satisfaction over the features available in the software.The training at Punjabi University was coordinated by DIO Patiala Sh Sanjeev Kumar under the guidance of Sh Mukesh K Ralli, Project Head along with Sh Devi Singh Thakur, TD, Sh Vikramjit Singh, TD and Puja Rani, SSA.