Lectures on 'Women Empowerment to commemorate 150th Birth Anniversary of Mahatama Gandhi' and 'Meeting on COVID-19' through Video Conference on 19.03.2020 in NIC Punjab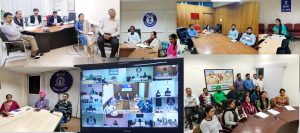 The Lectures on 'Women Empowerment' were organized by NIC Punjab on 19.03.2020 to commemorate 150th Birth Anniversary of Mahatama Gandhi through Video Conference.
Satyender Kumar, DDG and State Informatics Officer also conducted VC Meeting with all Officers and Staff of NIC Punjab State / District Centres and told that in the wake of spurt in cases of COVID-19, all Officers and Staff should take necessary action to take all precautionary measures in respect of health, social distancing and travel issued by NIC Hq. and Government at the work area as well as at home.
The event started with welcome address by Satyender Kumar, DDG & State Informatics Officer to prominent guest speakers at Kapurthala, Bathinda and Jalandhar Districts through Video Conference. He told that the empowered women should be provided a natural way towards her overall growth.
Bharat Bhushan, Scientist-F and ASIO conveyed the words of G.D. Anderson that "Feminism isn't about making women stronger. Women are already strong, it's about changing the way the world perceives that strength."
Sanjeev Kumar Gaba, Scientist-E and DIO Kapurthala introduced Mrs Gagandeep Kaur, DSM Kapurthala and in-charge of Punjab Land Record Society Kapurthala. She stressed that Gender inequalities are still deep-rooted in our society and it is required to be curbed. The vital role of women and the need for their full and equal participation and leadership in all areas is required to be appreciated.
Sandeep Kumar Gupta, Scientist-E and DIO Bathinda introduced Prof. Seema Gupta, Head of Dept. (Psychology), Govt. Rajindra College, Bathinda. She told that women constitute almost 50 percent of the population. Women had a respectable position during the Vedic period. Many kings were known by the name of their mothers. Even the Lord Shiva was considered to be incomplete without the Shakti, his female consort. Whereas the beginning of present times witnessed many atrocities on women in the form of sati pratha, purdah system and child marriage etc. with the efforts of social reformers like Raja Rammohan Roy and others things did change. The society has come long way in an effort to empower women, still lots of work needs to be done. The most important step towards women empowerment is giving a secure environment to the females. It requires the disciplining the boys to respect women and share the responsibilities equally. The day the boys start considering them as equal and not ascribe a particular role to them will be real women empowerment
Amolak Singh Kalsi, Scientist-F and DIO Jalandhar introduced S. Amarjeet Singh Bhullar, District Programme Officer (WCD) Department of Social Security, Women and Child Development, Punjab. He, during presentation on Women Empowerment, highlighted Physical and Mental state of Indian Women/Girl child and efforts being made by Govt. of India and Punjab in uplifting their status.
Smt. Raj kaur, Professional resource person and active self-help group member presently posted in District Rural Development Agency Jalandhar highlighted her personal experience and benefits availed under women upliftment schemes from Govt. of India/Govt. of Punjab.
Smt. Usha Rani, beneficiary under प्रधान मंत्री मातृत्व वंदना योजना (PMMVY – A conditional cash transfer scheme for pregnant and lactating women of 19 years of age or above for the first live birth) shared her experience on getting financial assistance for meeting her new born child's nourishment and her medical expenses.
The views on Women Empowerment expressed by the Empowered Women (Mahila Shakti) of NIC Punjab was the main highlight of the event.
Parminder Kaur, Scientist-D, PbSC Chandigarh quoting the examples of Dr. Neeta Verma Director General, Mary Kom, P.V Sindhu, Anjali Bhagwat conveyed that Women is making progress in all areas gradually, urged all women to believe in themselves.
Kirti Mahajan, Scientist-D, PbSC Chandigarh stressed that the society will have to change its mind-set and support women in their household life and in the society. As a girl and woman in the society, they will have to empower themselves by becoming independent in all aspects of life.
Veena Rawat, ASO NIC PbSC Chandigarh depicting the various forms of women asked to respect them.
Ms. Meenakshi Davessar, Scientist-C, NIC Amritsar explained why Women Empowerment is Important in India.
Rupinder kaur, Scientist-C, NIC Hoshiarpur telling the meaning of women empowerment stressed the need of a balanced society.
Rasmeet Kaur, STA NIC Patiala expressing the women as much more than human being, conveyed that she has Gods' power to create a life, to cope with so much pain and somehow always end up being the strongest one.
Megha Singla, STA NIC Moga quoting the example of National Informatics Centre, told that the organization and its employees are putting great efforts to empower women in the work place.
Chetna and Jyoti of NIC PbSC Chandigarh defined Empowering women as to be financially and intellectually independent in their choices on one side, and on the other side, seeding the belief that they are equal to everyone else and that they have the same rights
Vikram Jeet Grover, Scientist-F and ASIO conveyed that as the women is already empowered and strong, she should be given appropriate space.
Pankaj Jain, Scientist-D recited his self created poem on women empowerment.
Sanjay Sawhney, Scientist-E and Head of Office coordinated the event. He while reciting couplets (dohe) on women, said that empowering women not only strengthen family but also strengthen our nation.
The Officers and Staff of NIC State & Project Divisions and all NIC District Centres of Punjab actively participated in the event through Video Conference.
Mukesh Relly, Scientist-E giving vote of thanks to Speakers, NIC Officers and Staff for their participation, stressed that in this critical time, all preventive measures on COVID-19 should be taken seriously.